10 Best Point of Sale Apps for iPad
Are you looking for the best point of sale apps for iPad for your business? However, the point of sale apps is the best for businesses to perform transactions from tracking sales to printing receipts and accepting signatures to processing credit cards. iOS device users will still need of these kinds of apps to accept credit card transactions on the go. Some of these apps require you to manually enter credit card information, but now there are some apps that use special accessories to make transactions.
These apps work on per transaction charge basis or charge monthly/yearly for doing your task. Basically, these apps works accept credit card payments, bill the customer, deposit the payment into your bank account. We have a list of outstanding point-of-sale apps for iPad that works best for you.
List of Best Point of Sale Apps for iPad
QuickBooks GoPayment – Download
This iPad app allows you to add up to 50 people on the same account. This app is designed and developed by Intuit and you should get some confidence in the app as it has developed many other successful apps like Quicken, QuickBooks, and Turbo Tax. Instead of swiping, this app also allows accepting chip cards with new EMV card reader. You can also customize you your receipts to include your logo, and even it let you tap in cash or check transactions to record if your customer doesn't have their credit card handy. You have to pay 3.75% on keyed transactions and 2.75% on card swipes. Additionally, there is a plan for those users who performs a lot of transactions. By paying $12.95 a month, you just have to pay only 2.75% for keyed in transactions and 1.75% for card swipes.
Also Read: 10 BEST VIDEO EDITING APPS FOR ANDROID
1stPayPOS, a point of sale app by 1stPayGateway offers you to maintain servers of your own and securely back your data on the cloud without maintaining and purchasing any server. There are two different modes available: restaurant mode or retail mode. You can choose one which suits you and even you can use this app offline. You can easily start loyalty programs to reward your customers whenever they make the purchase in your store.
Credit Card Terminal – Download
It is another fantastic point of sale app for businesses and iPad users. This app allows you to collect tax sales, capture signatures, accept tips, key in or swipe credit cards, and print receipts. You have to pay 2.09% to 3.79% plus $0.24 for manual transactions and for swipe transactions, you have to pay 1.74% to 3.79% plus $0.24. This app will cost you $25 per month. Moreover, when you activate the app, either you can get $50 iTunes gift card or free credit card reader.
Also Read: TOP 5 DICTATION APPS BUSINESSES SHOULD USE TO OPTIMIZE EFFICIENCY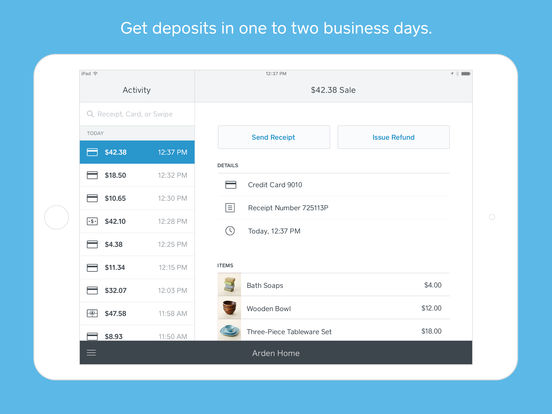 Square point of sale app is brought to you by Square, Inc. and is as easy to use as it is to setup. This app costs you pretty much lower than other apps and you will get a free card reader which you just have to plug in the headphone jack and you're done. The app is very user friendly and a lot more less complicated. Even you can create your own inventry to make adding items to the bill easy and quick. For bigger businesses, you can purchase their monthly plan of $275 or you can simply use the normal service which will cost you 2.75% charge per swipe transaction.
This app has similar funtions as like Square and slight cheaper than it. It will charge you 2.7% per swipped transaction and even you can get 1% cashback on your PayPal banking cards. They ask if you want card reader sent to you when you register to this app initially. Addtionally, PayPal Here allows you to accept a check as payment which Square does not offers. The payments made through this app are totally safe and with your PayPal debit card, you can access your funds at thousands of ATM's nationwide.